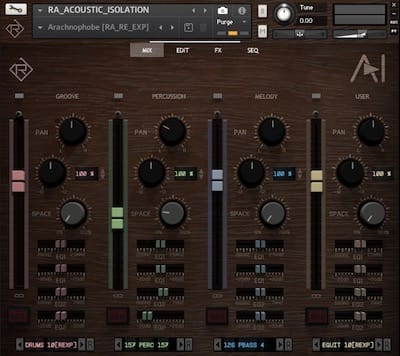 ACOUSTIC ISOLATION delivers 200 ready-to-rock kits covering stunning sounding drumgrooves and percussion loops as well as a huge range of pianos, strings, guitars and synthesizer loops.

It is a state-of-the-art loop module for KONTAKT containing 800 different loops that can be played in tandem across three categories (Groove, Percussion and Melody). A fourth user part lets you import your own WAV loops via drag and drop with a breeze.

All loops are (unencrypted) 24-bit / 48KHz WAV files.
These loops can be played polyphonically timestretched within a range of two octaves (24 semitones).
Each part has it´s own color-coded range on the keyboard.
You can alternatively play the loops sliced using the "SLICE" button in the sequencer pages.
There are special MIDI trigger keys/notes that enable you to retrigger a currently playing slice
(when a sequencer is turned on) or to trigger a volume "trancegate" per part.
ACOUSTIC ISOLATION allows you to import your own WAV loops simply via drag and drop. Save your customized ACOUSTIC ISOLATION instrument as a NKI instrument or snapshot for later use.
ACOUSTIC ISOLATION comes with a comprehensive onboard FX section. Besides the basic bread-and-butter effects like auto-pan, flanger and delay, you also got some more interesting effects:

The STEP FILTER is a tempo-synced bandpass filter that randomly changes it's cutoff. The AMOUNT controls the strength of the cutoff sweeps. The STEP GATE is a classical volume "trancegate". In the middle are on/off toggle buttons for the various effect sections. To the right is a preset menu with 32 presets and a randomize button that chooses one randomly.
The SPACE REVERB comes with 60 impulse responses that you can choose via the dropdown menu.